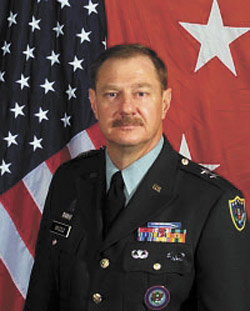 You are about to become part of the long and distinguished heritage and traditions that constitutes the NMMI Experience, an experience founded on the principles of "Duty, Honor and Achievement" which has flourished since 1891.  While strong in heritage and tradition, NMMI remains a progressive college-preparatory high school and university parallel junior college that employs the military model to educate and train its cadets in practical leadership and ethical behavior. We focus on helping our cadets attain excellence in academics, in character development, and in physical fitness, while providing them hands-on leadership opportunities in every campus endeavor and empowering then with the responsibility and authority to help execute the mission of the school and develop leaders of character. 
As NMMI's 19th President/Superintendent, it is important to me to continue with the school's efforts to expand and improve upon the already superior education for which the school is well known. Beyond that, I will continue to support and encourage NMMI's many life-enriching activities and programs which provide you, as a member of the Institute's Corps of Cadets, with a well-rounded, "whole person" educational experience.  While we share similarities with our nation's Service Academies and state military colleges and academies, military service is an option, not a requirement at NMMI. Approximately 80% of our graduates rise to important positions in civilian careers at the local, state and national level.  
I can assure you that your NMMI Experience will be one of daily growth, change, challenge, and opportunity – the kind of opportunity that enables you to learn new things, to meet new people, to exchange ideas, and to debate the issues.  Many people will help guide you along the way.  The Dean of Academics and the faculty will inform and challenge you. The Commandant of Cadets and his staff will train you and help you succeed as a cadet. Your fellow cadets will inspire you. But, what is required of you?
You must be willing to invest the necessary time and effort, seek out and take the initiative, and accept the responsibility for yourself and your actions that will lead to your success at NMMI. Are you ready to make the commitment? Are you ready to succeed in achieving your goals?  If you are, then we here at NMMI are ready to support you as you carve out your own NMMI Experience.
The information in this catalog, together with the advice of your academic counselor will help you plan for and achieve your educational goals – no matter what they may be.  
Good Luck!  I wish you great success as you work toward your future,
Jerry W. Grizzle, PhD
Major General, USA (Retired)
President and Superintendent