On line catalog for the 2011-2012 school year (Official Catalog)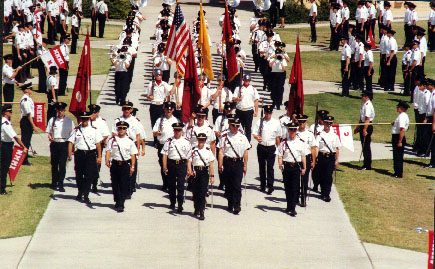 This catalog is the 2011 catalog for NMMI consisting of two semesters. Requirements apply to students entering during the Fall 2011 through Spring 2012 school year. Information is accurate as of the date of publication and specific changes that apply to this catalog are so noted on the change page. Updates/changes will have specific coverage and NMMI reserves the right to make changes in policies, regulations and fees giving due notice.
The NMMI Virtual Tour (on the menu) allows you see the various buildings on the NMMI campus and to remotely tour the campus.
---
Member of:
American Association of Community and Junior Colleges
American Council on Education
Association of Governing Boards
Association of Military Colleges and Schools of the U.S.
National Association of Campus Activities
North Central Conference of Summer Schools
New Mexico Association of Community Colleges
College Board
---
Accreditation
Junior College accredited (2011) by:
Higher Learning Commission
(a commission of the North Central Association of Colleges and Schools)
30 North LaSalle Street, Suite 2400
Chicago, Illinois 60602
800-621-7440
http://www.ncacihe.org/
College Preparatory High School accredited by:
North Central Association Commission on Accreditation and School Improvement
Arizona State University
P.O. Box 873011
Tempe, Arizona 85287-3011
800-525-9517
http://www.ncacasi.org
Additional certifications/licensure:
State of New Mexico
Public Education Department
Department of the Army as a Military Junior College offering JROTC and SROTC Programs. Honor School with distinction (or its equivalent) since 1909.
---
Equal Opportunity Policy
NMMI is open to all persons regardless of race, color, religion, sex, or national origin who are otherwise eligible for admission as cadets. The college is an Equal Opportunity Employer and no applicant or employee will be discriminated against because of race, color, religion, gender, or national origin concerning employment or during the course of employment at this Institute.
---
Automated Switchboard: 1-575-622-6250
Admissions: 1-800-421-5376
Address: 101 West College Blvd Roswell, New Mexico 88201
http://www.nmmi.edu